Naples' Finest State of the Art Video Production Team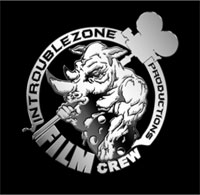 Chuck Ardezzone, CEO of InTroubleZone Productions, is a passionate producer with over 19 years experience in the TV and Film world. His creative storytelling style, attention to detail, and managing an innovative team of directors, writers, videographers, and editors is helping to turn Florida into a showcase for Film and TV production.
The New York native brought his expertise and talents to Naples, FL in 2005 and recently opened an 8,000 square foot studio where he oversees the filming and development of documentaries, reality TV shows, and movies.
An actor himself, Chuck has appeared in some 30 movies, with co-stars ranging from Ryan Gosling, to Sarah Jessica Parker to Uma Thurman…in 15 TV shows, including Law & Order, Burn Notice, and One Life to Live….and over 100 TV commercials.
His background of working on camera, as well as behind it, has brought him a unique insight into what goes into making a quality production.
His ITZ Studio comes equipped with HD cameras, sound, edit bays, drones, lighting, green screen, jibs, dollys, etc., and it's where he oversees an 8 person professional film crew.